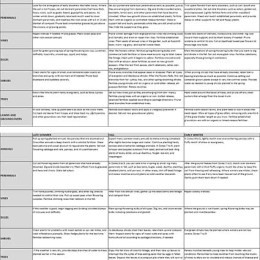 Despite what many people think, gardening is a year round activity. Planting, fertilizing, and pruning are best done at different times of the year depending on the zone in which you live and whether you're dealing with annuals, perennials, vines, shrubs, trees, or bulbs.
Answering Interview Questions
(11/09/14)
There's no question that interviews can be nerve-wracking experiences. However, a lot of this nervousness can come from being unprepared for …
Report Writing for Consultants
(11/06/14)
A good report is not a mass of data. Rather, it is a clear and concise presentation of insightful information. The quality of a report is a …
Customer Influencer Roles
(10/27/14)
To market your consulting approach and proposal effectively it's useful to identify the roles people may be playing, recognize their typical …
Camera Exposure: An Introduction
(11/03/14)
Built-in camera meters are precise and typically give great results, however there are times when you will want to over- or under-expose your …
Which Way is North?
(10/30/14)
If you have a compass, getting your bearings is easy. Unfortunately, if you were prepared enough to bring a long a compass, you probably were …

Ways To Reduce Water In The Home
(10/30/14)
One of the most important things on this planet is water. It is the one resource that every single living organism on earth needs to survive. And …
Sports Injury Prevention: Nothing Is Fool-Proof, But Worth Trying
(11/15/14)
Although sports are sometimes unpredictable, most injuries can be, and should be, prevented. After all, no athlete wants to be side-lined because …
Muscle: Interesting Facts, Names, and Function
(11/02/14)
Interesting Facts About Voluntary Muscles The human body has over 600 voluntary/skeletal muscles. This means muscles which we can control, as …
Working Safely with Gases: Preparation and Education Are Key
(10/15/14)
The word gas implies that a chemical is in it's gaseous state. Because there are numerous types of gases one can work with it is vital that …
Index Roll Investing Strategy: A Complicated Approach
(11/14/14)
The Index Roll is a passive long-term investment strategy that combines indexed investing with cheap investment debt using long-term call options …
ETF Exit Strategy Considerations: When Do You Get Out?
(11/08/14)
I have to admit that the massive decline in values for most, if not all, exchange traded funds back in 2008 and 2009 got me thinking about exit …
ETF Rebalancing: Keep Your Allocations In Alignment
(11/05/14)
I spent 6 weeks in the first quarter of 2006 rebalancing my investment allocations so that my holdings would be inline with my targets. The idea …
Travel Beyond Review
(11/21/14)
Elephant at Sunset Normally I make my arrangements for my vacations, but the more I dug into my trip to Botswana the more I realized that perhaps …
Duba Plains Safari Camp Review
(11/20/14)
View Inside Tent at Duba Plains Duba Plains is a safari camp in Botswana. It's accessible only by chartered plane. Located in the Okavango …
Savuti Safari Camp Review
(11/19/14)
Vervet Monkey Just Ourside Our Tent at Savuti On our trip to Botswana I stayed at two camps. The first was Duba Plains located in the Okavango …
Chinchilla Cages
(11/18/14)
You have two options when it comes to cages for chinchillas. You can build your own or you can buy one ready-made. We've actually done both.
Surviving in Harsh Environments: Some Freshwater Fish Are Undaunted
(11/13/14)
Refuges may prevent detection or prevent attack. Those that prevent detection by a predator are usually hiding places in one form or another. But …
Amazing Facts About Freshwater Fish
(11/12/14)
I like to read about marine fish. I also enjoying watching shows like Dicovery Channel's The Blue Planet series. That TV series in …