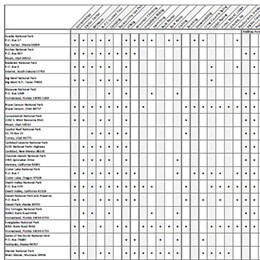 A handy matrix comparing the facilities and amenities of the US National Parks. This won't replace a travel book or in-depth research on the web, but you can't beat it for providing a quick way to narrow down your options. And if you've got friends like mine I'm sure you know the value of keeping the number of choices people have to choose from at a minimum!
Top Ten Things Ten Years of Professional Software Development Has Taught Me
(3/28/15)
I was reading a top ten list yesterday, and I thought I can probably come up with my own list of things no-one told me before I started …
Phishing
(3/14/15)
Phishing, the use of legitimate looking e-mails that attempt to trick people in to giving out personal information, is on the rise. It's not hard …
Working for Free on a 1099
(3/13/15)
A reader of a now-defunct message board once wrote... I'm a first time contractor and have been at it for two years now, working for a friend's …

Glacier National Park: Mountains and Moose Everywhere You Turn
(3/17/15)
The US has some amazing national parks and so I've made a point of visiting one or two a year. In September I travelled to Glacier National Park …

Insect Pictures
(3/15/15)
Insects make for great macro photos. They look quite different up close, but that closeness also makes taking photos of them tricky. At distances …
Desert Survival
(3/07/15)
Deserts are generally thought as being vast, wind-swept tracts of land covered by nothing other than sand. While such deserts do exist, there are …
Tool Safety: Even The Simplest Looking Tool Can Cause Severe Injury
(3/26/15)
Types of tools can vary quite a bit, from screwdrivers to chain saws. Other examples include; hammers, saws, cutters, wrenches, snips, chisels, etc.
Proteins: The Essential Building Blocks of Muscle
(3/17/15)
Proteins, which are made up of amino acids, are incredibly important for building body parts such as muscle, skin, hair, and nails. Without …
Extreme-Cold Safety: Excessive Heat Loss Can Be Life Threatening
(3/10/15)
Hypothermia Working in a cold environment is not only uncomfortable but can sometimes be life-threatening. The body must maintain an internal …
Retail Investors are Idiots And the Pros Bank On It
(3/25/15)
It'd be an exaggeration to say that I'm a fan of Jim Cramer. I do enjoy watching his show while at the gym as it makes the 30 minutes on the …
Steel ETF: Growth Means Building and Buildings Require Steel
(3/22/15)
As far as basic materials go, steel is one of the more important ones. We see steel everywhere we go and continued growth in countries like China …
Mutual Fund Investing Strategy: Taking Advantage Of the Skills Of Others
(3/18/15)
Many people will tell you that Mutual Fund Investing isn't actually a strategy, but I disagree. When you invest in mutual funds, you and many …

Georgetown on the South Carolina Coast: A Peaceful Town With Plenty to See
(3/29/15)
Looking to visit a peaceful town that's full of interesting attractions? Well, my husband and I highly recommend Georgetown on the South Carolina …

Williams Reindeer Farm, Alaska
(3/27/15)
Near Palmer, Alaska, I discovered a very unique attraction--the Williams Reindeer Farm. I thoroughly enjoyed letting friendly reindeer eat out of …

The Picturesque Eugene T. Mahoney State Park in Nebraska
(3/24/15)
Where can you find a picturesque state park, a drive-through safari and an enormous air museum -- all at the same freeway exit? They're clustered …
Safety in Numbers: There's a Reason Freshwater Fish Form Schools
(3/23/15)
The single most important benefit that fish gain from schooling is thought to be the reduction of predation risk. Schooling works in a number of …
Breeding Chinchillas: Quick Facts
(3/09/15)
Before we dive in to the topic of breeding chinchillas, please be aware that 1) we aren't chinchilla breeders ourselves, and 2) we don't …
Catfish: The Vacuum Cleaners of the Freshwater Fish World
(2/26/15)
Although almost absent from temperate waters, there is a huge diversity of catfishes in the lakes and rivers of the tropics. Their diet is just …