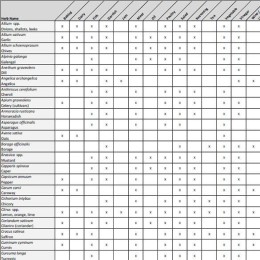 Herbs are a welcome addition to any kitchen. Your own herb garden, brimming with herbs that are useful for garnish, such as parsley and chives, and those that are important for flavor and aroma, such as basil and rosemary, lets you add a special touch [...]
3 Key Areas For Improving Your Team Skills
(4/13/15)
North American Corporations love teams -- groups of employees with all the technical skills and authority needed to manage themselves. There are …
The 5 Habits Of Highly Dysfunctional Companies
(4/10/15)
The concept of management by projects is a non-starter. The average company is not a project-driven company, and likely never will be. So why is …
10 Steps to a Successful Project
(3/30/15)
The state of Maine spent $25 million on a web-based Medicaid claims system. In exchange for all that money, they got a $300 million backlog in …
Mountain Survival: Les Stroud Shows How to Get Out Alive
(4/11/15)
This time around Survivorman, Les Stroud, shows us some tactics for surviving 7 days in the Rocky Mountains of British Columbia -- home to high …
Squirrel Pictures
(4/09/15)
Squirrels seem to be everywhere I go. I'm so used to seeing them when hiking that it actually strikes me as odd when I don't. Despite being …
6 Bonaire Shore Dives On the South Side
(4/04/15)
In Bonaire, shore dives are the norm. In fact, it's the shore dives that is the big attraction as it allows people to dive where they want and …
Blisters: The First Aid Is Counter-Intuitive
(4/20/15)
The skin is made of three major layers, the dermis (external), the epidermis, and the hypodermis (deepest layer). When these layers become …
14 Bicycling Mistakes: You're Guilty Of At Least One of These
(4/20/15)
Even seasoned riders sometimes make mistakes or forget things they ought to know. Avoid a bad ride with the following tips and reminders.
Bicycle Cranksets and Chainrings: Round and Around We Go!
(4/18/15)
The crankset is the part of the drivetrain that holds the crankarms (which hold the pedals), the chainrings, and which connects onto the bottom …
Retail Investors are Idiots And the Pros Bank On It
(3/25/15)
It'd be an exaggeration to say that I'm a fan of Jim Cramer. I do enjoy watching his show while at the gym as it makes the 30 minutes on the …
Steel ETF: Growth Means Building and Buildings Require Steel
(3/22/15)
As far as basic materials go, steel is one of the more important ones. We see steel everywhere we go and continued growth in countries like China …
Mutual Fund Investing Strategy: Taking Advantage Of the Skills Of Others
(3/18/15)
Many people will tell you that Mutual Fund Investing isn't actually a strategy, but I disagree. When you invest in mutual funds, you and many …
Fort Stanwix National Monument in Rome, New York
(4/19/15)
If you're driving through beautiful central New York, Fort Stanwix National Monument in Rome is definitely worth a stop.
Take Part in the German Heritage Days in Grand Island, Nebraska
(4/18/15)
The "running of the wieners" at German Heritage Days in Grand Island, Nebraska is safer than the running of the bulls in Pamplona, Spain, and …
Check Out the Pumpkin Cannon at Lawyer's Winterbrook Farm in Maryland
(4/03/15)
When we spotted a huge orange contraption outside a cornfield near Thurmont in Maryland's Catoctin Mountains, my husband and I detoured to investigate.
Marsh and Ditch Habitats: How Freshwater Fish Survive In These Environments
(4/15/15)
Many of the fish that find their way into aquariums originate from harsh, inhospitable habitats. Some of the conditions found in aquatic habitats …
Chinchilla Pictures
(4/14/15)
Just about every pet owner ends up taking pictures of their chinchilla. And with the increasing popularity of digital cameras, it has become …
Fish Diets in the Wild: What's There To Eat In Freshwater Habitats?
(4/12/15)
In their natural habitats, the majority of tropical aquarium fishes are opportunists, or generalist feeders. If they come across a tempting …