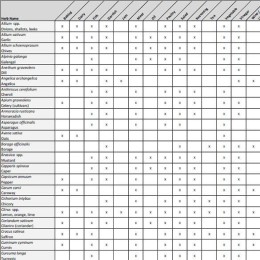 Herbs are a welcome addition to any kitchen. Your own herb garden, brimming with herbs that are useful for garnish, such as parsley and chives, and those that are important for …
Windows UI Tweaker
(2/14/17)
I try to stick to writing about software that I use a lot myself. I figure that's the best way to make sure that my recommendations are …
Sample Cold Calling Phone Script
(2/05/17)
Phone Script: Outline for Effective Outbound Communications Leaving the voicemail. Name: Hello, I am _______________. I am calling from: …
Free Windows Startup Manager
(1/22/17)
It's typical for computer users to install more and more programs the longer they use their computers. There's just so much …
Camera Lens Filters: An Introduction
(2/09/17)
Specialized filters are on the market for many different effects, but I tend to keep them as simple as possible and use only two or three types …
Scuba Diving After Heart Surgery
(2/06/17)
Can a person who has had bypass surgery dive with restrictions? The short answer is "possibly," and, of course, depends on individual …
Surviving When Lost at Sea
(1/31/17)
You wouldn't normally consider the ocean as wilderness and so a site such as this one that focuses on a wilderness survival tactics might …

Skin Conditions: Symptoms, Impact and Treatments
(2/18/17)
Forget the heart, liver, lungs or kidneys, the largest organ in the human body is actually the skin! Depending on your body shape and size it …
Excavating Safely While Below Ground At a Worksite
(2/16/17)
One of the biggest risks while excavating is that of walls collapsing on top of workers. It is almost impossible to predict when an excavated …
What to Put in a First Aid Kit: Limited Space Means Planning Ahead
(2/12/17)
Keep a first aid kit readily available in your home, cottage, automobile, boat, work place, and recreation area. Store it in a dry place and …

Canada Becomes the Investment Destination of Choice in 2017
(2/19/17)
Current global economic trends appear to be conspiring into positioning Canada as the go-to market for safer investing in 2017. Other markets are …
Value Investing Strategy: If You Can Wait Long Enough You Can Win
(2/07/17)
Value investors, often referred to as Contrarian Investors, are always on the lookout for underpriced stocks. This is a research-intensive …
Currency ETF: Can You Win At This Zero-Sum Game?
(1/29/17)
Currency exchange traded funds (ETFs) hold currency rather than companies like traditional ETFs. The idea being that you could buy shares of the …

Little River Canyon National Preserve, Alabama
(2/17/17)
For spectacular vistas of one of the deepest gorges east of the Mississippi River, visit the 14,000-acre Little River Canyon National Preserve in …

Rock City: A National Natural Landmark in Kansas
(2/13/17)
You should definitely stop and see Rock City if you're traveling in central Kansas near Minneapolis, the boyhood town of George Washington …
Horicon National Wildlife Refuge in Wisconsin: The Largest Freshwater Cattail Marsh
(2/08/17)
The International Crane Foundation, the only institution in the world to breed all 15 crane species, including the highly endangered whooping …
Evading Reef Predators When Chased
(2/18/17)
When a predator launches an attack, it is time for prey animals to get out of the way with all speed. Of course, anywhere will do to start off …
Fish Instinct and Learning From Experience
(2/15/17)
In the wild, animals are continuously presented with new challenges and threats. To be successful, they must learn how to cope with these and how …
How Do You Keep a Chinchilla Cage Clean?
(2/12/17)
I am getting a chinchilla and I want to keep its cage as clean as possible so how often do I have to change the litter and do I have to scoop …