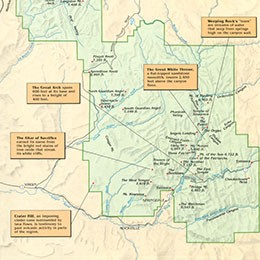 I don't know about you, but one of the first things I look for when considering a trip to a national park is a map. I want something that will give me a good overview of the …
Day Trading and Technical Analysis: Is History Destined To Repeat?
(4/29/16)
Technical analysis is the complete opposite of fundamental analysis so it's no wonder that Day Trading is one of my least favorites …
REIT ETF: Own Real Estate Without Having To Mow the Lawn
(4/23/16)
You've no doubt heard that for the last several years the real estate market has been hot with returns exceeding many other asset classes. …
Oil ETF: Will Increasing Consumption Lift These Funds?
(4/15/16)
Getting a positive return on your investments is getting to be more difficult. Markets tend to be volatile, interest rates are forever being …
Spinach Festival in Crystal City, Texas
(4/30/16)
Remember Popeye's source of superhuman strength? So does Crystal City, Texas, which calls itself the "Spinach Capital of the World."
Little Swiss Village Resort, Wisconsin: Top-Notch Cuisine and Hospitality
(4/27/16)
When we want to take out-of-town guests to a nice breakfast or lunch, we head for the Little Swiss Village resort, west of Minocqua, Wisconsin …
Minar Indian Restaurant Review: Good Food, So-So Decor
(4/22/16)
I'm a fan of Indian food, but the quality seems to vary greatly in Manhattan. Buffets in particular generally don't taste as good as …
Handling Chinchillas
(4/24/16)
Once chinchillas get used to their environment, there will be few instances where you actually must pick them up. Our chinchillas are very good …
How Do You Serve Hay To A Chinchilla?
(4/21/16)
Baby.Angel021 asks… I was just wondering what does everyone use to put their hay in? I have heard so many sad stories of chins and hay …
Surviving in Harsh Environments: Some Freshwater Fish Are Undaunted
(4/20/16)
Refuges may prevent detection or prevent attack. Those that prevent detection by a predator are usually hiding places in one form or another. But …